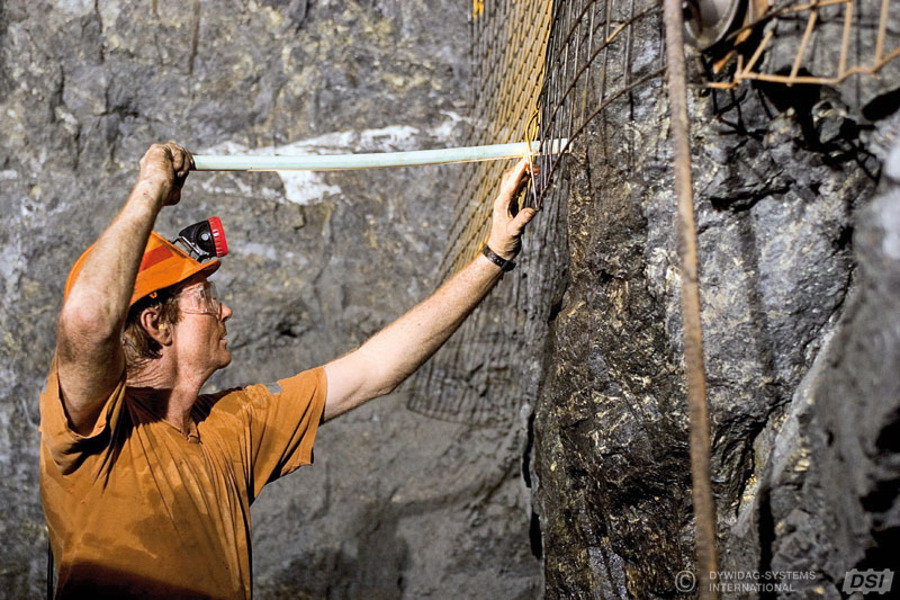 Encapsulation Trial of Resin Cartridges in Mines
A strongly corrosive environment caused by geological influences characterizes the George Fisher Zinc Mine in the Mount Isa mining region in North Australia. Consequently, the owner, Xstrata Zinc, a subsidiary of the globally operating mining group Xstrata Plc., wanted to ensure good corrosion protection through full encapsulation of the anchors in the drill hole during driving works.
DSI Australia supplied chemical TB2220T1P10R Posimix Bolts for the anchorage. The bolts are 2,200mm long and have a diameter of 20mm. During the fourth quarter of 2007, DSI Australia carried out a comprehensive range of tests in cooperation with Xstrata Zinc on site. The testing was conducted in order to find the best possible amount of encapsulation for the anchors by varying the sizes of boreholes and resin cartridges.
A choice could be made from 1,050mm long resin cartridges with both medium and slow components in 26mm and 30mm diameters. When using the 26mm cartridge in the 35mm diameter boreholes typical for this anchor type, a degree of encapsulation of 55% was achieved. Consequently, two alternative trials were carried out.
Using the same resin cartridge and reduction of the borehole diameter to the minimum diameter of 33mm achieved an encapsulation of 80%.
Keeping the borehole diameter of 35mm and using a larger resin cartridge with a diameter of 30mm resulted in an encapsulation of 87%.
Both alternative tests achieved the degree of encapsulation required by the customer. Xstrata Zinc opted for alternative 2 because the 33mm drill bits could not have been re-used due to local rock characteristics. In addition, the marginally higher costs for the larger resin cartridges are more than fully compensated by the multiple use of the 35mm drill bit.

Due to the successful test range, DSI Australia was given a contract for the supply of Posimix anchors and 30mm resin cartridges by the owner of the mine, Xstrata Zinc.

Back More Projects