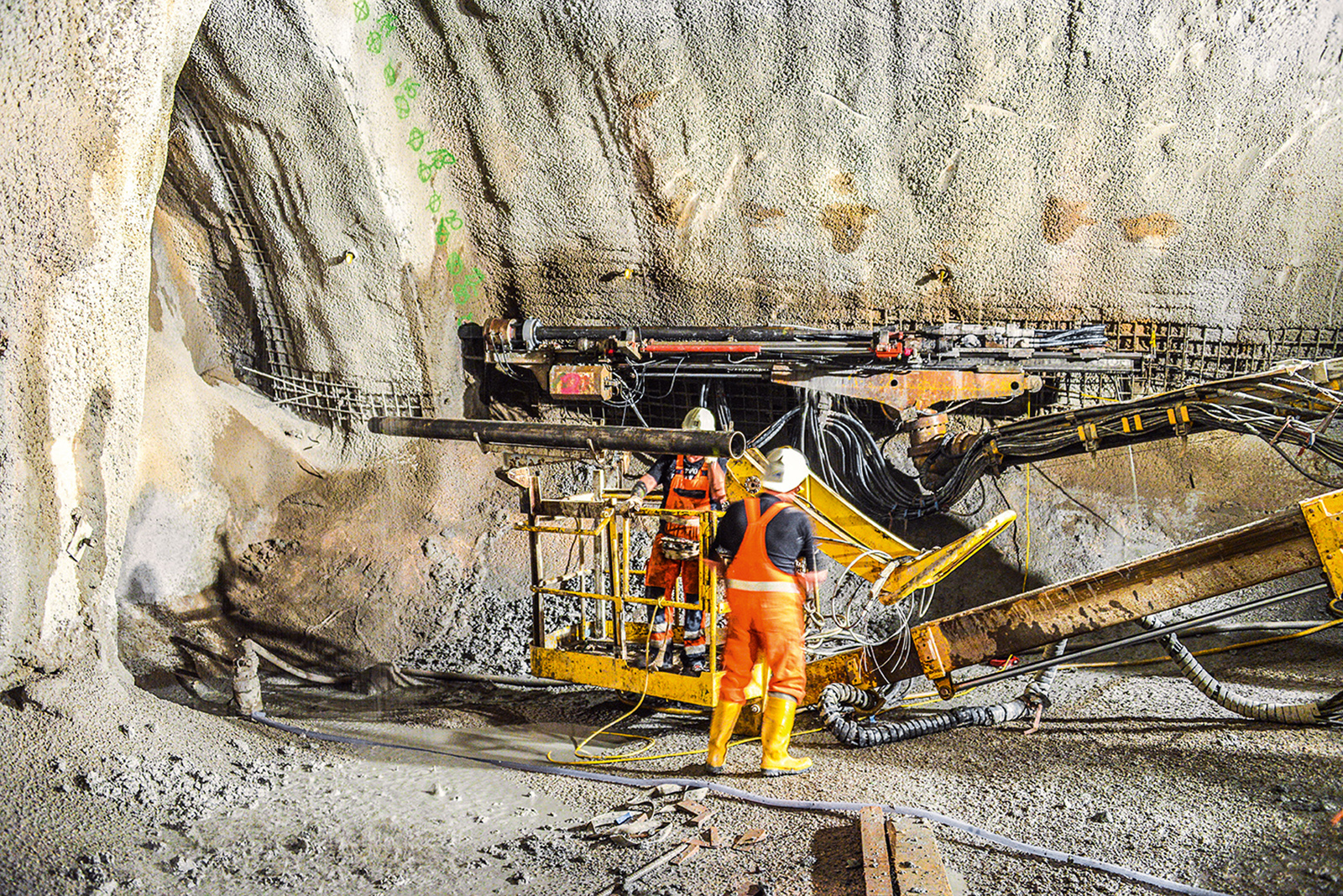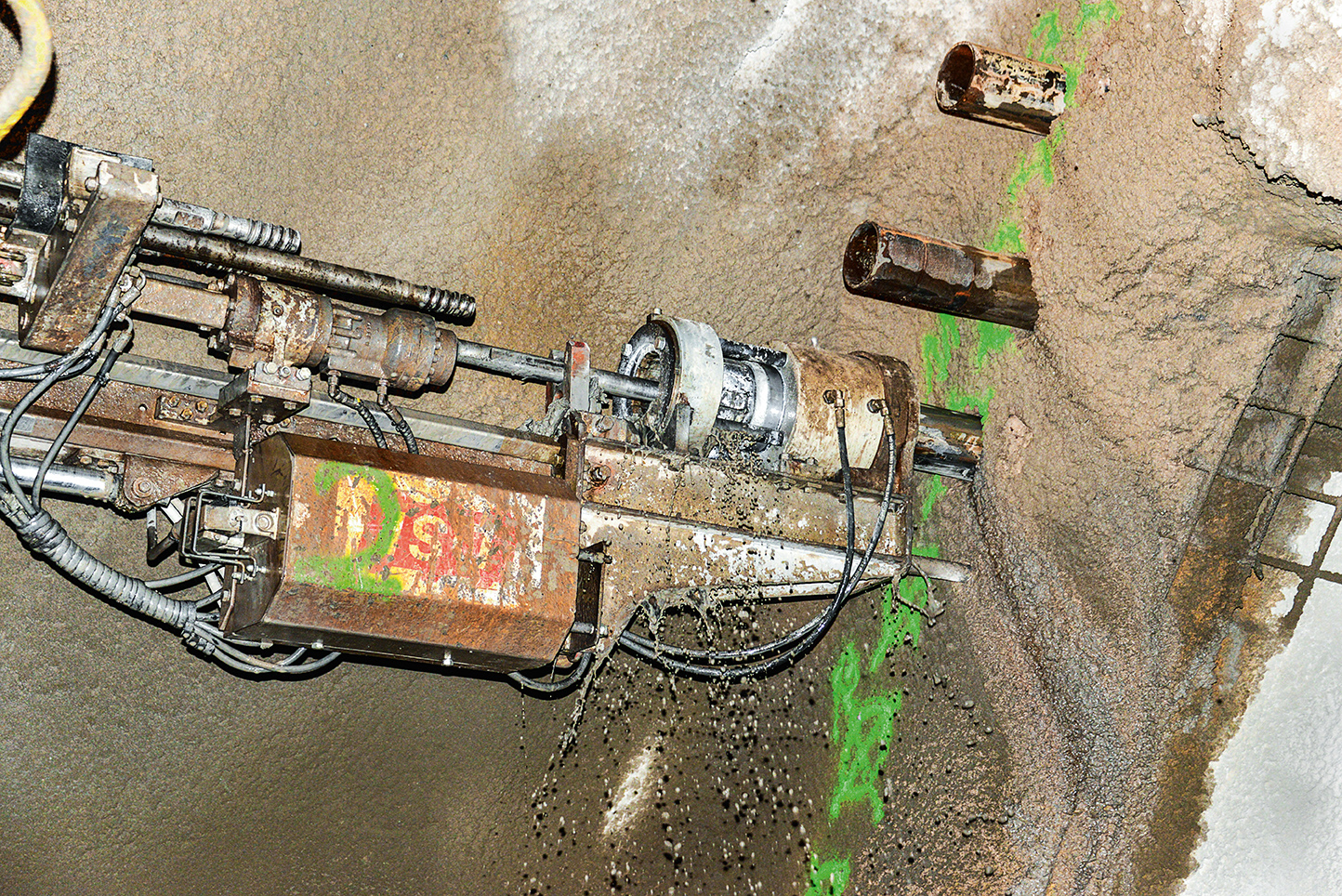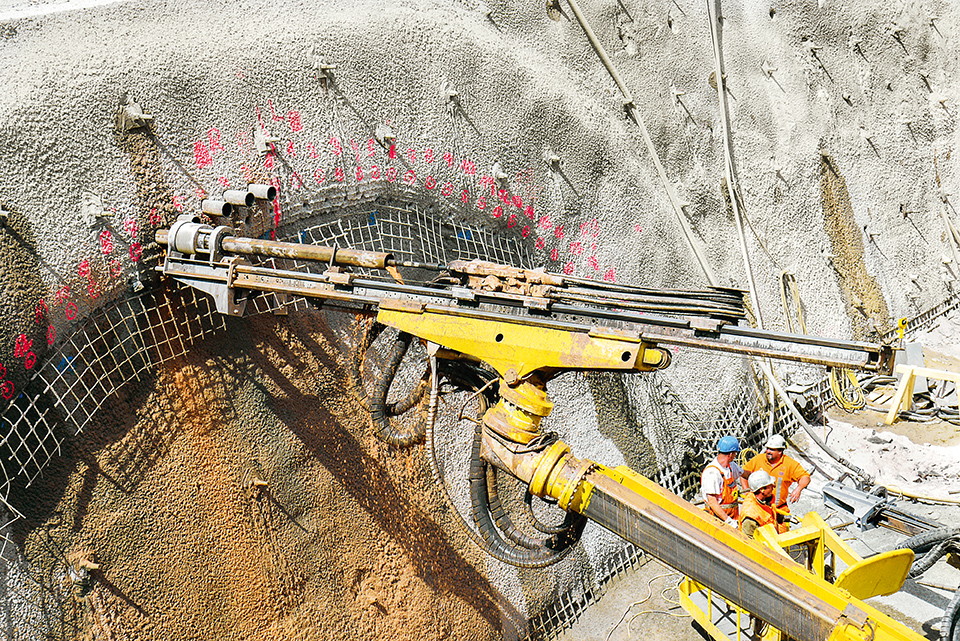 Milestones in the Application of the Squeezed Connection for the AT – Pipe Umbrella System
The squeezed connection newly developed by DSI Underground Austria for a fast and safe connection of pipe umbrellas is a decisive step in the development history of the AT – Pipe Umbrella System. The system ensures a simple, fast and cost-efficient connection of pipe umbrella tubes.

Contrary to standard threaded pipe connections for pipe umbrella systems, the squeezed connection eliminates the weakening of umbrella pipes in the connection area. To establish the squeezed connection, a pre-manufactured beveled pipe end is inserted into the already installed tube, and both tubes are force and form fitted within a few seconds using a hydraulic hollow jack. The squeezed connection results in increased bending stiffness in the connection area in comparison to conventional threaded tubes. Furthermore, the load-bearing capacity of the connection is more than 50% higher than the elastic design value of default pipe umbrella tubes. The advantages of the system speak for themselves, and DSI Underground Austria has already supplied the AT – Pipe Umbrella System with squeezed connection for the following projects:
Chantier Ligne 4 Paris, France
Stein, Lind and Untersammelsdorf Tunnels, Austria
Granitztal Tunnel Chain, Austria
John Hart Hydro, Canada
Koralm Tunnel, KAT3, Austria
Hirschhagen Tunnel, Germany
Eglinton Crosstown LRT, Canada
The advantages of the squeezed connection are:
Enhanced working safety:
- Pipe umbrella pipes are connected automatically.
- An integrated drill rod wrench allows a safe disconnection and connection of the drill steel.
Proven cycle time savings:
Detailed investigations have shown that the total time for connecting pipe umbrella tubes can be reduced by more than 50%, leading to considerable time savings and sustainably enhancing profitability.
Superior capacity:
Increased load-bearing capacity (elastic and ultimate moment) in comparison to the standard threaded connection. This allows the use of thinner-walled pipe umbrella tubes while achieving the same or even higher load-bearing capacity.
Enhanced utilization rate:
Less material consumption, easier transportation and handling.
Quality control:
The squeezed connection eliminates quality defects at pipe connections.
DSI Underground Austria has received several more requests for quotation for the AT – Pipe Umbrella System featuring the new, innovative squeezed connection that improves installation safety on tunnel job sites around the world every day.

Back More Projects