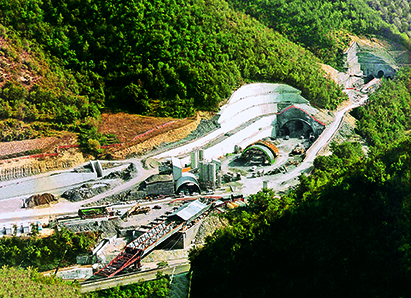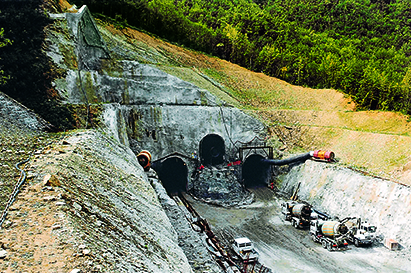 DSI support the greatest tunneling site on earth
Construction of a new high-speed railway from Bologna to Florence, Italy
The high-speed railway from Bologna to Florence crosses the Appenines, an Italian mountain range with peaks up to 2,910 m high. The roject is with regard to size, complexity and use of financial and human resources unique in the world. The Bologna-Florence high-speed railway will be put into operation in 2006, reducing travel time between the two cities to approximately 30 minutes.
The following statistics illustrate the project's dimensions:
78 km long tunnel section, divided into
9 main tunnels with lengths varying from 600 m to 18,000 m,
13 access galleries with an overall length of 9 km,
10 km long emergency tunnel parallel to the Vaglia Tunnel,
demanding soil conditions caused by the orogenesis of the Apennine Mountains,
investment volume of Euro 2.5 billion.
Design and construction of the project are state of the art. Instead of using NATM (New Austrian Tunnelling Method), the tunnel projects were executed in accordance with ADECO-RS (Analysis of Controlled Deformation in Rocks and Soils). DSI were extensively employed to meet the high quality standards of the project. DSI Bar Anchors were used to secure the slurry walls at the tunnel entrances and to stabilise the vaults in the main and access tunnels as well as to stabilise the rock faces of the S.Pellegrino excavation (26 x 728 m).

Temporary 26.5 mm dia., grade 835/1030 and 36 mm dia., grade 1080/1230 DSI Bar Anchors, with lengths of 10 to 20 m as well as temporary 3 to 9-0.6" DSI Multistrand Anchors with lengths of 20 to 30 m were installed. Work on the various construction sites has been under way for more than 4 years and the project is now approximately 70% complete. The major construction work will be finished in 2003 and the high speed railway is scheduled to go into operation in 2006.

Back More Projects