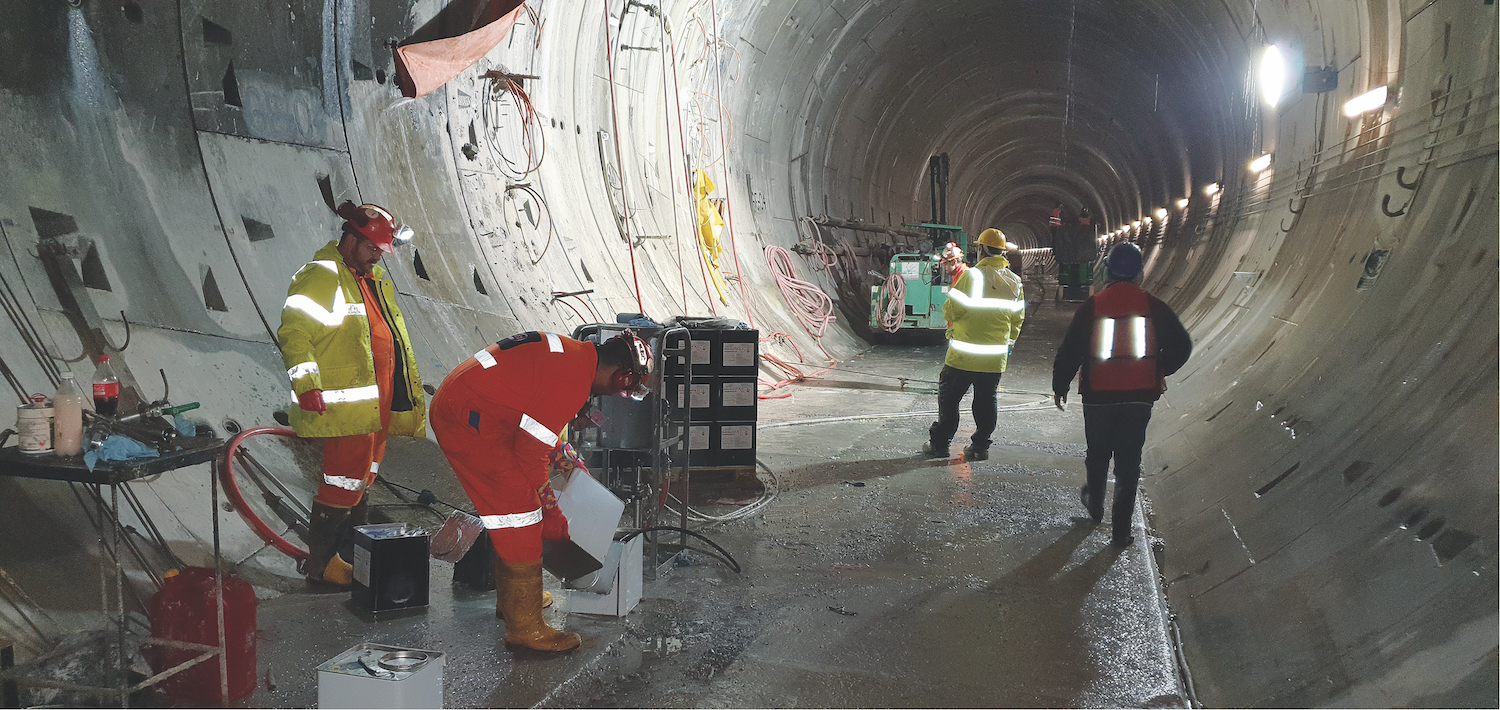 Grouting systems support cross passages in Mexico City
The Tren Interurbano railway line connects Toluca with the capital Mexico City. With a length of 57.7 km, the line runs through the Sierra de las Cruces mountain range, where a new twin-bore tunnel with a length of 4.7 km is being built. The new line will shorten the journey time from the present one hour to 39 minutes.
In order to drive the tunnel, which has now been completed, two multimode tunnel boring machines with an excavated diameter of 8.5m were used. The 4.7 km long tunnel runs through heterogeneous geology including breccia, basalt, tuff, lapillite and andesite. The two parallel tunnel tubes are connected at regular intervals with cross passages. In cross passage No. 4, there were several water ingress incidents, which hindered the support work. The affected section had to be sealed against water pressures or up to 6 bar. DSI Underground proposed to the general contractor Ingenieros Civiles Asociados (ICA) grouting with a combined system of polyurethane and silicate resin to fill cavities and seal against water pressure in order to enable completion of this section without further delay. In the first step, an outer grout ring of rapid-reacting polyurethane resin was injected, which considerably reduced the water ingress.
Then silicate resin grout was injected to seal and fill the complete area. ICA had already tested various alternative solutions on the drive. The grouting systems from DSI Underground could produce demonstrable waterproofing. The grouting systems provided by DSI Underground (Strata Bond HA and Mineral Fill) achieved greater penetration capacity than alternative products and were characterised by good and rapid workability.
DSI Underground gathered an international team of specialists from Mexico and Europe for the project at short notice. The grouting work was successfully carried out on site in Mexico City and achieved the required reduction of pressure and volume of the inflowing groundwater so that lining work could then be successfully completed.
General Contractor

Secretaría de Comunicaciones y Transportes (SCT)

---

Unit

DSI UNDERGROUND MEXICO S.A. de C.V., Mexico

DSI Underground Scope

DSI Underground Mexico

Scope

Production, supply, technical support

Products

trata Bond HA and Mineral Fill, pumps and injection equipment
Back More Projects